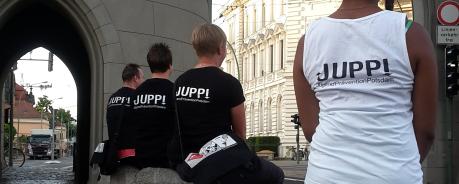 Get involved for a colourful, queer, solidary Brandenburg!
We are a small association and live from the commitment of our members and volunteers. There are many ways to get involved, for young people and older people, for queers and straights, for people with and without disabilities.
Whether at the CSD in Potsdam, the queer party in Freiland or at the semester opening at the University of Potsdam: we are represented at many places with information stands and need your support.
You have an artistic streak and know a lot about graphic design? Help us develop flyers and other information material.
Are you interested in social media? Support us with our social media presence and the maintenance of our website.
Join the counsellor training of the German Aids Federation and get to know committed people from all over Germany.
Have we aroused your interest? Then get in touch with us by phone or e-mail.
Minimum age of 18 years
Reliability and continuity in cooperation
Acceptance of other lifestyles
Willingness for training and further education
Thorough introduction to the work of AIDS-Hilfe Potsdam e.V.
Qualified training and further education
Regular group meetings
Support from our full-time staff members
Insights into new life worlds
Certification of voluntary activities
Hortense Lademann
Beratung
Betreuung
Sexuelle Bildung
Sozialarbeiterin (Diplom)